Official Language Implementation
2018-2019
Official Language (Hindi) Implementation at ARCI
The Official Language Implementation Committee (OLIC) under the Chairmanship of Dr. G. Padmanabham, Director, ARCI has been successful in the implementation and progressive use of Hindi at ARCI. Quarterly OLIC meetings were conducted to review the progressive use of Hindi at ARCI. ARCI has also been imparting regular training in Hindi to its employees under the Hindi Teaching Scheme. Employees who have successfully completed Prabodh, Praveen and Pragya were given cash awards and incentives as per norms. To encourage the employees to carry out their day-to-day official works in Hindi, a cash incentive scheme is in place and four employees received cash awards, during the year for carrying out official works in Hindi.
One Day Scientific & Technical Hindi Seminar
Under the auspices of TOLIC-Hyderabad (3), ARCI independently organized one day Scientific & Technical Hindi Seminar on "Role of Scientific Organizations in Nation's Development" on 6th June, 2018 at ARCI, Hyderabad. Shri B.S. Rawat, Joint Secretary (Admin. & O.L.), Department of Science and Technology, Govt. of India, New Delhi was the Chief Guest. A tremendous response was received from government R&D institutes of Hyderabad. From 31 R&D institutes about 60 participants have attended the seminar. 29 research papers were presented in Hindi, out of which 7 research papers were from ARCI. On this occasion, a souvenir was released by the Chief Guest and Director, ARCI.
Hindi Saptha Celebrations
ARCI celebrated "Hindi Saptha" during September 11-20, 2018. As part of Hindi Saptha celebrations, employees and students participated in various Hindi competitions like quiz, elocution, noting & drafting, essay writing, hand writing, translation, typing, scrabble, Just-A- Minute, debate and poem. Shri Eashwar Chandra Mishra, Assistant Director, Central Translation Bureau, Bengaluru was the chief guest for the occasion. He delivered a lecture on "Possibility of Usage of Hindi in Writing Scientific Research Articles". Shri Naveen Naithali, Hindi Lecturer, Central Hindi Teaching Scheme, Hyderabad, conducted the quiz programme. All the nominated employees and research students actively participated in the Hindi Saptha celebrations which concluded on September 20, 2018. All the winners were given prizes.
Release of Annual Hindi Magazine
In continuation to ARCI's efforts in successful promotion of Implementation of Official Language, an effort was made to publish an Annual Hindi in-house magazine "SRUJAN". The magazine contains scientific and technical research articles, achievements of ARCI and general articles received from staff and research students. Accordingly, 1st edition of Hindi magazine "SRUJAN" was published on March 29, 2019 in a grand function by the Chief Guest Shri Gyanshyam Sharma, Principal Government Women's College, Hyderabad. Dr. Tata Narsinga Rao and Dr. Roy Johnson, Associate Directors, OLIC members and the staff members participated in the function.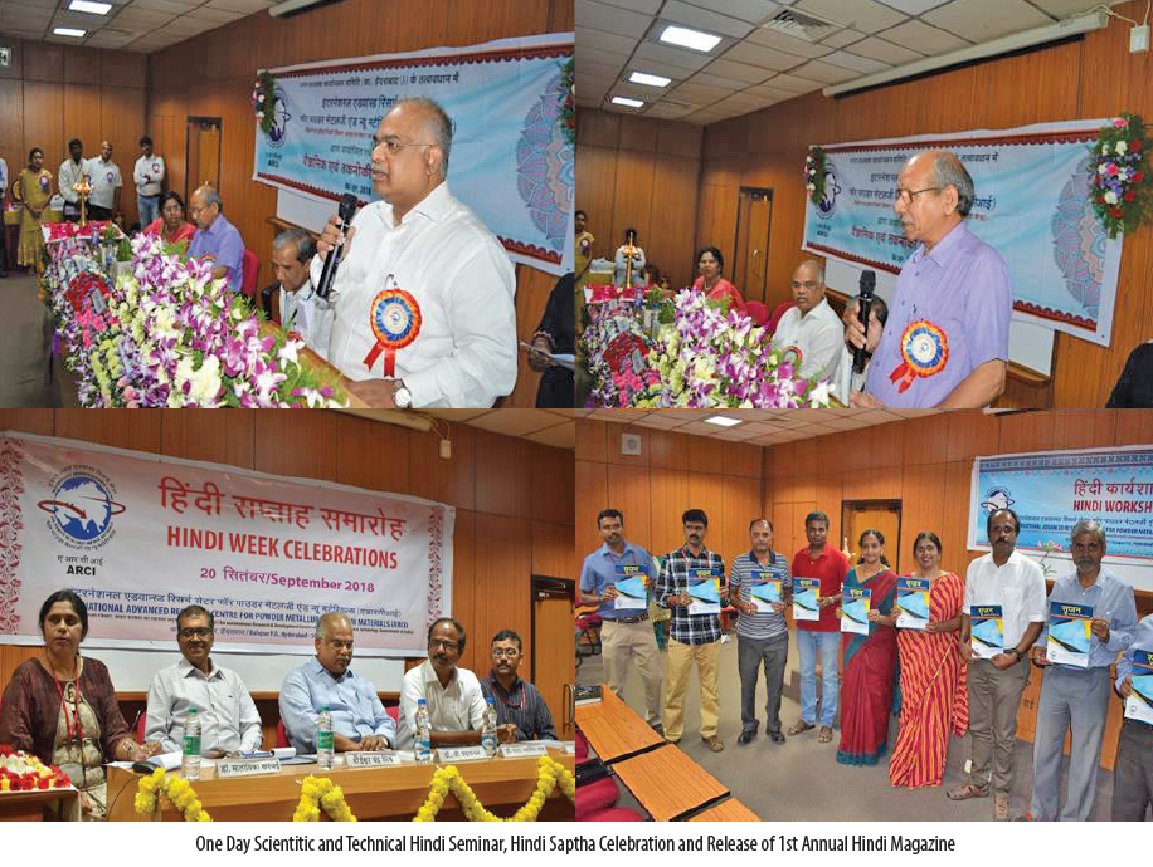 Events held during the years 2009-2013 (5 years)
The quarterly meetings of OLIC are chaired by the Director and resolutions are passed for implementation of the OL policy according to the requirements in ARCI.
S.No
Description
2009
2010
2011
2012
2013
Total
1
OLIC Meetings
5
4
6
6
5
26
2
Hindi Workshops
4
4
4
4
4
20
3
No.of Trained Employees
104
163
141
117
136
661
4
Hindi Classes Under HTS
Prabodh
Praveen
Pragya
Total
30
30
29
89
5
Hindi Day / Saptah Celebrations ( 1 Per Year 2009 to 2013 )
5